Timeless, Classic & Durable Looking Kitchens with Stone Wall Refrigerator Wraps

Give your kitchen cooking and cleaning space that strong and everlasting look with these Stone Wall magnetic fridge fronts. Now, your refrigerator will stand tall with confidence and have a bold character that only these simple to apply magnetic, Stone Wall fridge panels can provide. Our Stone Wall refrigerator covers are ideal for wrapping the side panels of your old but good running fridge for a rocky, three-dimensional effect, while also protecting against scuffs and scratches. Also, give you kitchen even more character when you add a complementary magnet cover to your dishwasher.

Stone Wall Fridge Skins for a Simpler, Yet Robust & Stylish Look All at the Same Time
Get Them Today!

Stone Wall - High Resolution Printed Image - Made in the USA

Magnetic Refrigerator Skin Sheet 36" x 65" or 36" x 70"
One Skin Sheet Completes One Front or One Side

Skin Fits all Fridge Models Even If Yours is not Shown Above

You Will Need to Cut Skin Sheet to Fit Your Model of Fridge

Easy to Cut & Trim with a Box Cutter or Scissors

Credit Card Thin & Ships Rolled Up in a Tube

Sticks Instantly & Can Be Removed & Reapplied

Measure Top to Bottom & Left to Right then Place Order

Comes with One Page of Easy Instructions

Customer Reviews
02/09/2021
Anonymous

United States
Stone Wall Fridge Skin
I absolutely love my new fridge skin magnet. It took a lot of time to measure/make the pattern out of paper, then measure several times to be 100% sure my edges were perfect and cut VERY carefully0, but TOTALLY worth every second it took. My fridge is small, so there was enough scrap left over to "wrap" the edges of the doors too. I've recommended to a friend who is going to buy one of the library shelf skins. So glad I found this site.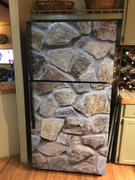 10/20/2020
Sandra H.

Canada
Fantastic product and customer service!
We love our fridge and freezer magnets! We have a brand new Frigidaire All-Fridge/All-Freezer which is covered in dents. We were sent multiple doors to replace the dented doors, but each door was just as dented as the ones before. We finally gave up when a manager for Frigidaire informed us of a defect in the stainless steel, due to their supplier. The monetary solution to these defects was unacceptable, so we decided to give up. We were thrilled to find these fridge magnets! We love them more than the stainless steel doors had they been dent-free! So cool!! Unfortunately, my husband messed up on measuring before cutting, so we had to order one more cover. Measure 5 times....cut once....lol! He's a contractor (has his own successful business), so this was embarrassing for him.... and I forgave him...lol! Anyway, the customer service/communication was outstanding! Another cover was immediately sent to us in Canada, and the shipping was pretty quick. I submitted photos on a previous review. It looks superb! We highly recommend this quality product!!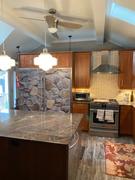 10/02/2020
Benjamine M.

United States
Looks fabulous!
Joseph, I finally received your magnets for my refrigerator in California. We are very happy with them and they look fabulous on the fridge. I used a box cutter blade and took my time cutting them. Thanks for getting us our magnets and coming up with this wonderful idea. Not only will my refrigerator look unique than any other fridge it will be more protected from dents. Here are a few pictures you may want to use on your website. Thanks Joseph