Make your tired dishwasher look fresh again & fast with our Magnetic Stainless Steel Dishwasher Cover Skins.

Our non-brushed, non-shiny, stainless steel dishwasher covers are quick, simple to use and are smudge proof. These nickel aluminum colored dishwasher panels are a great way to add life to your dishwasher and kitchen.
Buy One Today!

Non-Brushed Stainless Steel - Non-Shiny Finish - Made in the USA

Please Note:

 

This is Not a Dishwasher

 

but rather a magnet skin that sticks magnetically to your Dishwasher
Magnetic Dishwasher Cover Skin Panel

Sizes 24" x 24" or XL 24" x 30"
Fits all Dishwasher Models
Easy to Cut & Trim with a Box Cutter or Scissors
Credit Card Thin & Ships Rolled Up in a Tube

Sticks Instantly & Can Be Removed & Reapplied

Measure Top to Bottom & Left to Right & Then Place Order

Comes with One Page of Easy Instructions

Customer Reviews
01/21/2023
Donna R.

United States
Non Brushed Stainless Steel Dishwasher Skin
We did some remodeling in our kitchen and due to supply chain issues we couldn't get new black appliances and had to go with stainless steel. My dishwasher is fairly new and I didn't want to replace it so the appliance skin seemed like a less expensive option to have it match the other new stainless steel appliances versus buying a new dishwasher. I chose the non brushed stainless steel after receiving samples of the brushed and non brushed from the co. I am so glad they offered the free samples otherwise I was struggling trying to decide whether to order the brushed or non brushed. Overall I am pleased with the look. If I don't tell someone I don't think they would ever know my dishwasher isn't stainless steel. My husband and I did struggle somewhat making a template and cutting the magnet to size. We used a hobby knife from Walmart over cardboard and a straight edge. We freehanded the curve at the top using a template we made. Our cuts aren't perfect but unless you are looking really really close you can't tell. The skin does damage and crease fairly easy so you have to handle it with care, thus the 4 star review. Other than that this is a 5 star product and does exactly what it says it does.
04/17/2022
Shayla M.

United States
Works great
We updated our stove and fridge to stainless, but we had purchased our dishwasher just a year or so ago, so this was a perfect solution to not having to replace our newerish dish washer just for ascetics. It was easy to use and looks great.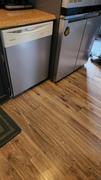 04/13/2022
Anonymous

United States
Very pleased with my purchases!
I am so happy with the ease of application and the appearance of the dishwasher and refrigerator magnet covers. With all new appliances except the dishwasher I knew that I'd have to get a magnet skin for the dishwasher. But I didn't realize until the refrigerator was installed that the exposed side was almost black in color. It stuck out like a sore thumb in my all white and new stainless kitchen. Thank you so much for your fine product. (I chose the non-brushed finish for my GE appliances.)