On Sale Now! 
Beer Tap Image

Refrigerator Magnet Skin Size 36" x 65"
Fits all Fridge Models
Easy to Cut & Trim with a Box Cutter or Scissors
Credit Card Thin & Ships Rolled Up in a Tube

Sticks Instantly & Can Be Removed & Reapplied

Measure Top to Bottom & Left to Right & Then Place Order

Comes with One Page of Easy Instructions

Customer Reviews
Enjoyed installing
Enjoyed installing, very easy and looks great. Changed the simple white fridge to very colorful scheme. Thanks folks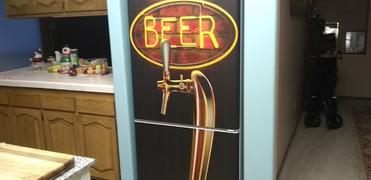 Rust Marks on Fridge
We have a fridge with bad rust marks on the front and the fridge magnet did an excellent job in covering it. This fridge is on our enclosed patio. We have a sports bar theme so the beer tap fit in perfectly. Make sure you take your time in putting it on. Since the whole sheet is a magnet, it is not easy to move into position.
PERFECT!
Turned a boring stainless beer fridge in the garage to a man cave work of art! LOVE IT, all my husbands man friends are jealous.