On Sale Now!
Gloss Black Color

Dishwasher Magnet Skin
Sizes 24" x 24" or XL 24" x 30"
Fits all Dishwasher Models
Easy to Cut & Trim with a Box Cutter or Scissors
Credit Card Thin & Ships Rolled Up in a Tube

Sticks Instantly & Can Be Removed & Reapplied

Measure Top to Bottom & Left to Right & Then Place Order

Comes with One Page of Easy Instructions

Customer Reviews
07/28/2020
Anonymous
United States
Dishwasher Magnet Skin
Easy to put on, wish it came a bit larger though to account for cutting mistakes.
Gloss Black Dishwasher Magnet
Exactly what I expected.
installation was easy
The new dishwasher I ordered was incorrectly entered as stainless steel rather than dark stainless by the salesperson. Because the dishwasher had the features I wanted I reluctantly accepted the darker color in hopes of not standing out too much from all my other black appliances. Once the dishwasher arrived and was installed we realized it was regular stainless in color. After a trip back to Lowe's to see what could be done it became apparent there was not going to be a black dishwasher with the features I want or I could wait months in hopes of getting a dark stainless. The department manager then suggested a magnetic cover and introduced me to Best Appliance Skins. I ordered the gloss black color I wanted, it arrived in no time and installation was easy. I ordered the larger size and had to make two cuts - side and bottom - easily done with a box cutter. It adhered beautifully and now my dishwasher looks as I had hoped. I'm very pleased too have been made aware of this product. A happy solution.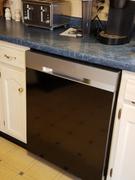 quite durable
The dishwasher skin was just right to cover the upper half of the side of our refrigerator? The fridge in the house is somewhat unfortunately located right next to the gas range and the finish on the old fridge was quite damaged from that proximity. The new fridge had black sides which go nicely next to the black stovetop. We used the skin to protect the side of the fridge and it will also be convenient to be able to just pull it off and clean it. And it looks good meaning it doesn't really alter the look of our fridge which is what we were hoping. Also the skin seems to be quite durable- ie it doesn't scratch easily. Thanks.
Appliance skin is great
It makes my dishwasher look brand new and matches all my appliances. Great product.