Buy One Today!

Natural Oak Wood Planks - High Resolution Printed Image - Made in the USA

Magnetic Refrigerator Skin Sheet 36" x 65" or 36" x 70"
One Skin Sheet Completes One Front or One Side

Skin Fits all Fridge Models Even If Yours is not Shown Above

You Will Need to Cut Skin Sheet to Fit Your Model of Fridge

Easy to Cut & Trim with a Box Cutter or Scissors

Credit Card Thin & Ships Rolled Up in a Tube

Sticks Instantly & Can Be Removed & Reapplied

Measure Top to Bottom & Left to Right then Place Order

Comes with One Page of Easy Instructions

Customer Reviews
01/12/2022
Douglas S.

United States
These magnet skins are ****** near perfect!
The only problem I experienced was that I failed to account for a shallow Frigidaire logo when cutting the skin to fit the front of our refrigerator. Otherwise, if you measure twice and cut once, you really can't go wrong. The surface actually looks like wood, and there isn't much reflection from nearby light sources. It looks quite natural and adheres very well. I am very pleased with this product and enthusiastically recommend it.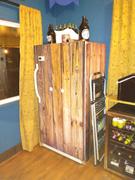 01/13/2022
Best Appliance Skins
Thank you for your feedback. Quick Tip: The brand label logos can be pried off gently using a screwdriver and cloth between it and the appliance, so as not to scratch or dent the surface of your appliance. The logos are only stuck on with a very sticky type of tape. You can leave the logo off for a more custom look or stick it onto the magnet skin. I hope this helps answer your questions. Thank you, Joseph
05/23/2021
William T.

United States
Not positive at first as the order was not correct, but after it was corrected I was completely satisfied.