Make your tired dishwasher look fresh again & fast with our Magnetic Stainless Steel Dishwasher Cover Skins.

Our non-brushed, non-shiny, stainless steel dishwasher covers are quick, simple to use and are smudge proof. These nickel aluminum colored dishwasher panels are a great way to add life to your dishwasher and kitchen.
Buy One Today!

NEW NON-BRUSHED STAINLESS STEEL PRODUCT AS OF OCTOBER 2021.
PRODUCT REVIEWS TO COME AS ORDERS ARE FULLFILLED.
Non-Brushed Stainless Steel - Non-Shiny Finish - Made in the USA
Please Note:

 

This is Not a Dishwasher

 

but rather a magnet skin that sticks magnetically to your Dishwasher
Magnetic Dishwasher Cover Skin Panel

Sizes 24" x 24" or XL 24" x 30"
Fits all Dishwasher Models
Easy to Cut & Trim with a Box Cutter or Scissors
Credit Card Thin & Ships Rolled Up in a Tube

Sticks Instantly & Can Be Removed & Reapplied

Measure Top to Bottom & Left to Right & Then Place Order

Comes with One Page of Easy Instructions

Customer Reviews
04/17/2022
Shayla M.

United States
Works great
We updated our stove and fridge to stainless, but we had purchased our dishwasher just a year or so ago, so this was a perfect solution to not having to replace our newerish dish washer just for ascetics. It was easy to use and looks great.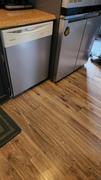 04/13/2022
Anonymous

United States
Very pleased with my purchases!
I am so happy with the ease of application and the appearance of the dishwasher and refrigerator magnet covers. With all new appliances except the dishwasher I knew that I'd have to get a magnet skin for the dishwasher. But I didn't realize until the refrigerator was installed that the exposed side was almost black in color. It stuck out like a sore thumb in my all white and new stainless kitchen. Thank you so much for your fine product. (I chose the non-brushed finish for my GE appliances.)