On Sale Now! 
Stone Wall Image

Refrigerator Magnet Skin Size 36" x 65"
Fits all Fridge Models
Easy to Cut & Trim with a Box Cutter or Scissors
Credit Card Thin & Ships Rolled Up in a Tube

Sticks Instantly & Can Be Removed & Reapplied

Measure Top to Bottom & Left to Right & Then Place Order

Comes with One Page of Easy Instructions

Customer Reviews
Fantastic product and customer service!
We love our fridge and freezer magnets! We have a brand new Frigidaire All-Fridge/All-Freezer which is covered in dents. We were sent multiple doors to replace the dented doors, but each door was just as dented as the ones before. We finally gave up when a manager for Frigidaire informed us of a defect in the stainless steel, due to their supplier. The monetary solution to these defects was unacceptable, so we decided to give up. We were thrilled to find these fridge magnets! We love them more than the stainless steel doors had they been dent-free! So cool!! Unfortunately, my husband messed up on measuring before cutting, so we had to order one more cover. Measure 5 times....cut once....lol! He's a contractor (has his own successful business), so this was embarrassing for him.... and I forgave him...lol! Anyway, the customer service/communication was outstanding! Another cover was immediately sent to us in Canada, and the shipping was pretty quick. I submitted photos on a previous review. It looks superb! We highly recommend this quality product!!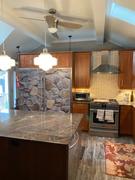 Looks fabulous!
Joseph, I finally received your magnets for my refrigerator in California. We are very happy with them and they look fabulous on the fridge. I used a box cutter blade and took my time cutting them. Thanks for getting us our magnets and coming up with this wonderful idea. Not only will my refrigerator look unique than any other fridge it will be more protected from dents. Here are a few pictures you may want to use on your website. Thanks Joseph