On Sale Now!
Glasses Of Wine Image

Dishwasher Magnet Skin
Sizes 24" x 24" or XL 24" x 30"
Fits all Dishwasher Models
Easy to Cut & Trim with a Box Cutter or Scissors
Credit Card Thin & Ships Rolled Up in a Tube

Sticks Instantly & Can Be Removed & Reapplied

Measure Top to Bottom & Left to Right & Then Place Order

Comes with One Page of Easy Instructions

Customer Reviews
06/24/2020
Anonymous
United States
dishwasher magnet cover Glasses Of Wine
This dishwasher/refrigerator wine magnet picture is very nice, but a little brighter than I really wanted. However, I'll keep it. Very nice.
Spruced up kitchen
I was so tired of looking at a stainless steel dishwasher that had spots that I could not get off. This Skin Cover has made my day. My husband doesn't notice things I change, however, he noticed this cover right away and really liked it. SURPRISE! Since I have wine signs all over kitchen this added to my decor. Highly recommend. Very easy to install. Even tho dishwasher 23" this cover being 24" wide fit perfectly.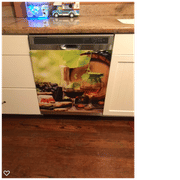 very happy
I am very, very happy with my dishwasher skin. I had to cut about an inch off the side and it was really quite easy to do with a straight edge and razor knife. It is really a pleasure to walk into the kitchen and see this stand out. I am considering another one for a refrigerator. I just have to pick the right one!